Lights! Camera!! Action!!!
Marriage they say is an institution and it takes patience, tolerance, respect and love to survive in such an institution and not many people have kept their heads above the water when it came to that. Most people think marriages are like scenes from a Hollywood romantic movie all sweet, rosy and beautiful but it's not all that. Marriage has its own downsides but if you are ready to sacrifice and tolerate, the upsides will be like the peak of Mount Everest. I have seen some old folks strongly in love and if you ask them how long they've been married their answers will surprise you, that does not mean they have never had issues in their relationship, but a lot of self sacrifices and tolerance were personally ingrained into their marriages' to keep it running and that is the lubricant that keeps the mechanism running efficiently. The old folks did not apply any special skills to survive in marriage; they just did the right things.
In the celebrity world, relationships and marriages end like a hot knife through butter, but some celebrity couples has proven their critics wrong telling them "Marriage is a bond".
Here are my top ten couples who have survived the marriage institution and are still going stronger and stronger and surprisingly they are all movies stars. Some People have wrong notions about movie stars but get ready for some surprise. Here is my top ten list of couples who have made it work despite the temptations of being high profile movie stars in today's world of Lights! Camera!! Action!!!.
1o
Will Smith and Jada Pinkett Smith: 18 Years
Will Smith and Jada Pinkett Smith celebrated their 15th wedding anniversary on December 31, 2013. The pair married in 1997 after meeting on the set of "The Fresh Prince of Bel-Air" in 1990.
Pinkett is the stepmother of Will's son Trey, whom he had in a previous marriage. Together, the couple has two children, Jaden and Willow
who followed in the footsteps of their parents. Don't they look just amazing?
9
Kelly Ripa and Mark Consuelos: 19 Years
After meeting on the set of "All My Children" in 1995, Kelly Ripa and Mark Consuelos' off-screen romance quickly heated up. The pair dated for a year before eloping to Las Vegas on May 1, 1996. They have since welcomed three children, sons Michael and Joaquin and daughter Lola Grace.
"You have to make some time for yourselves, and that's hard to do with schedules the way they are, and especially with the kids back to school," Consuelos told YouTango.
8
Warren Beatty & Annette Benning: 23 Years
After decades of dating high profile Hollywood women including Natalie Wood, Julie Christie, Diane Keaton and Madonna, Beatty settled down with Annette Benning, whom he met on the set of "Bugsy." Married in 1992, the couple has four children together.
7
John Travolta and Kelly Preston: 24 Years
John Travolta married actress Kelly Preston in 1991 after meeting in 1987 on the set of "The Experts." The two have three children together, daughter Ella Bleu and sons Benjamin and Jett, who died in 2009.
"One thing I've learned is that you really have to keep creating your marriage. You can't let it sort of drift off to be however it will be... We never go to bed angry. We work it out before we go to sleep unless we're too, too exhausted," Preston told Redbook in 1998. "Then we put it on hold until first thing. We know what each other's buttons are -- so we don't push them. Neither of us likes to yell, so we don't. I think these rules are really what has been the basis for us, because we've had so much affection, love, respect, enjoyment, and fun."
6
Tom Hanks and Rita Wilson: 27 Years
Tom Hanks and Rita Wilson married on April 30, 1988 after meeting on the set of Hank's show "Bosom Buddies." They have two sons, Chet and Truman. Hanks spoke with Oprah about his close bond with Wilson in a 2001 interview. He said, "There's such an advantage to being involved in the day-to-day details of each other's lives. It's a marvelous fabric to exist in."
5
Olu Jacobs and Joke Silva: 30 years
Olu Jacobs married Joke Silva in 1985 after they met
at the National Theatre in Lagos, Nigeria while they were rehearsing for Jero's Metamorphosis by Professor Wole Soyinka in 1981. Joke silva was to play Sister Rubeka and Olu Jacobs was playing the role of Prophet Jero and, at the same time co-directing the play.
They celebrated their 30th wedding anniversary sometimes in July 2015. When asked what kept their marriage going? The reply was "Friendship
.
We are each other's very close friend. It's not as if we don't have close friends outside our marriage, but I think we are both each other's number one close friend. The other thing is mutual respect, the fact that we both share the same passion about the area of entertainment that we are in. Of course, the various challenges that we've faced over the years, we've learnt how to surmount them together. At different times when it is necessary, we have both learnt to forgive each other. I guess the sum total of what I'm saying is that God's grace has been present in our marriage." Joke silva told Vanguard Nigeria in 2014.
4
Christopher Guest and Jamie Lee Curtis: 31 Years
Jamie Lee Curtis married director Christopher Guest on December 18, 1984. She officially became Lady Haden-Guest in 1996 when Guest inherited the Barony of Haden-Guest following his father's death. The pair has two adopted children, Annie and Thomas.
3
Denzel and Pauletta Washington: 32 Years
Denzel Washington married actress Pauletta Pearson on June 25, 1983 after meeting on the set of the TV film "Wilma." Pearson and Washington have four children together, son John David, daughter Katia, and twins Olivia and Malcolm.
Denzel and Pauletta recently revealed the secrets behind their long-lasting marriage in an interview with Ebony magazine. "I live with this man. I see the down part. I see the sad part. I see every part," Pauletta said. "He has and knows he has that stability in me as his wife. That gives him strength, regardless of if he misuses it. I can't dwell on that. But I do know that gives him a great platform to go and fly." Denzel added, "There's no magical mystery. We go through up and downs like any couple."
2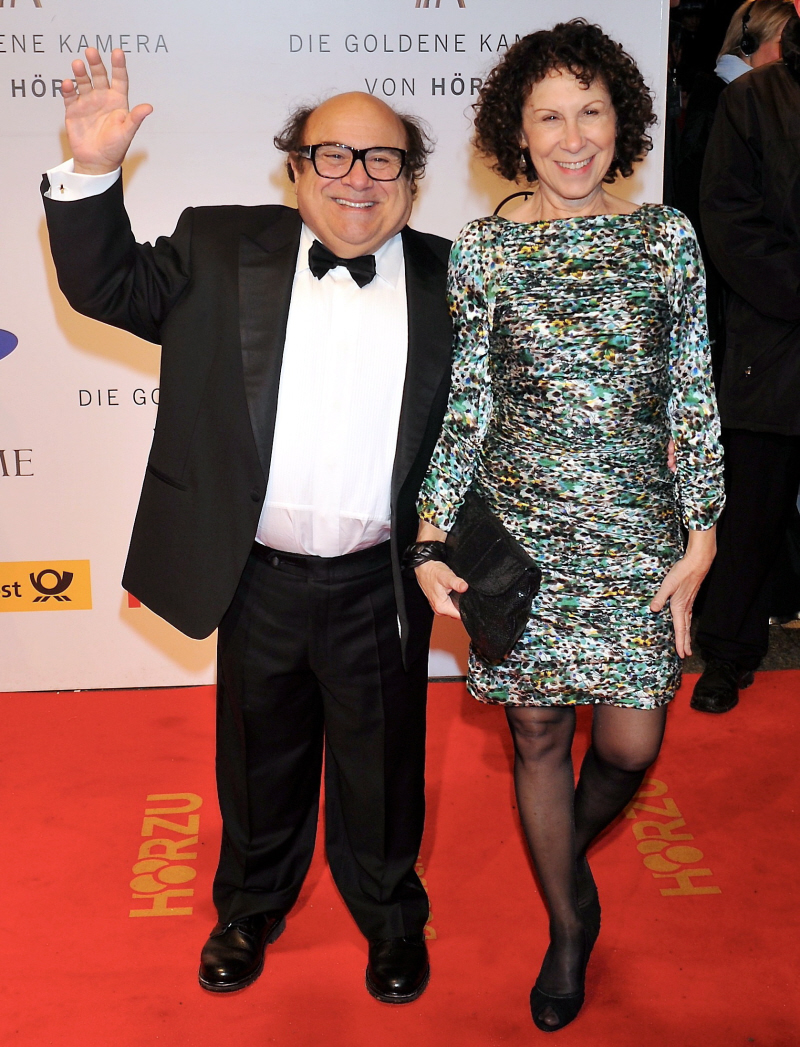 Danny DeVito and Rhea Perlman: 33 Years
Danny DeVito and Rhea Perlman aren't just one of Hollywood's longest-lasting couples, they are one of the funniest. The pair married on January 28, 1982 and are blessed with three children together, daughters Lucy and Grace and son Jacob. In late 2012, DeVito and Perlman announced their intention to separate after 30 years of marriage, but have since reconciled.
1
Samuel L. Jackson and LaTanya Richardson: 35 Years
Samuel L. Jackson wed former sports channel producer LaTanya Richardson in 1980 after meeting in class at Morehouse College. They welcomed daughter Zoe three years later, and despite several rough patches over the years, their love has endured. "LaTanya has a great sense of humor, a great love for life and a great love for the people around her," Jackson told Ebony magazine in 2003.
These are the people who are supposed to be called the real husbands/wives of Hollywood.
"Marriage is a sacrifice and not a game,those who sees it as a game end up losing out."
...Pablo Onuoha.