Reignite your love life with the presence of nature and beauty. Love is beautiful when shared with that special person you love in a totally different part of the world where splendor and natural tenderness will whet your appetite into appreciating nature. Treating your spouse to an holiday/ weekend take away outside the city to somewhere like an Island, a Ranch/resort or an exotic spot outside the country is bonding and healthy for a relationship because its therapeutic. There are places that are heaven on earth, places that shows you how beautiful love could be when you are with your loved one. Magic mixed with love and nature is what places like these exhibits.
In no particular order the following are 15 romantic destinations.
Venice

In the Veneto Region, in the waters of the Adriatic, is one of the most romantic and evocative places in the world, a priceless treasure: the Venetian Lagoon.

At the heart of this legendary Province is the Serenissima or Most Serene Republic, with its characteristic bridges spanning the canals navigated by gondolas, its monuments, piazzas, narrow lanes and silent waters.
Venice is actually a group of fascinating small islands, where art and history combine with old trades and the beauty of the sea.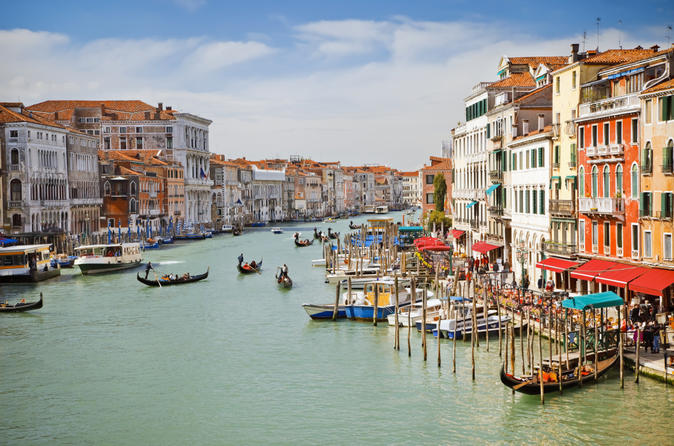 Sandy beaches washed by the Adriatic Sea characterize the main resorts that offer vacationers every kind of comfort. The fascinating inland is composed of many paths traversing the green scenery, along with peaceful rivers that pass through small towns rich in history and fabulous villas.

It is an area full of the exquisite flavors of its typical dishes and a renowned "wine list."
Many opportunities for fun abound as well: outdoor sports, nightlife in the many glamorous night spots, and shopping in the typical crafts workshops to buy souvenirs.
Barbados


Romance and adventure are in the air on this lush West Indian island in the Caribbean, depending on your coast. To the west, you'll find calm waters and good swimming. To the east, there are massive, competition-caliber waves. Wherever you stay, expect turquoise waters, fine soft sand beaches, catamaran cruises and delicious island fare.
Barbados has it all: beach resorts from humble to grand, smashing nightlife, a Unesco World Heritage capitol, Bridgetown, a beautiful interior dotted with gardens, wild surf on the lonely east coast and a proud and welcoming populace.
When was the last time you went out for a casual drive and ended up inside a volcano? A surreal scenario comes to life at La Soufrière, one of the most popular attractions in St. Lucia. Pack your skin with the medicinal mud of Sulfur Springs for a DIY spa treatment. Continue your eruptive adventures with a guided hike of the two volcanic plugs known as the Pitons then ascend Morne Fortune to take in the sweeping views. For an intimate beach experience, hit the private black sands of Anse Mamin.
Noted
for its oodles of small and luxurious resorts that drip color and flair, St Lucia is really two islands in one. Rodney Bay in the north offers modern comforts amid a beautiful bay. In the south, Soufrière is at the heart of a gorgeous region of old plantations, hidden beaches and the geologic wonder of the impossibly photogenic Pitons.

Rio de Janeiro

Golden beaches and lush mountains, samba-fueled nightlife and spectacular football matches: welcome to the Cidade Maravilhosa.
Captivating Beaches
Rio's beaches have long seduced visitors. Copacabana Beach became a symbol of Rio during the 1940s, when international starlets would jet in for the weekend. Hogging the spotlight these days is Ipanema Beach, its fame and beauty unabated since bossa nova stars Tom Jobim and Vinícius de Moraes introduced the world to its allure in the 1960s. For

cariocas

(residents of Rio), the beach is Rio's backyard – a playground that's free and open to all, offering endless enjoyment in the form of football, volleyball, surfing, snacking, drinking or simply relaxing amid the passing parade of people.
Tropical Landscapes
Looking out from the 710m peak of Corcovado, you will see why Rio is called the Cidade Maravilhosa (Marvelous City). Lushly forested mountains fringe the city, shimmering beaches trace the shoreline and a string of tiny islands lie scattered along the seafront. Far from being mere cinematic backdrop, this seaside beauty hosts outstanding outdoor adventures: hiking in the Tijuca rainforest, cycling alongside the lake and beaches, sailing across Baía de Guanabara, and surfing, rock climbing and hang gliding amid one of the world's most stunning urban landscapes.
The Rhythms of Rio
Music is the lifeblood of Rio, with a soundtrack comprising rock, old-school bossa nova, hip-hop, funk and Brazil's many regional styles. Above all there's samba, a rapid-fire style of music with African influences and an infectious beat that is synonymous with Rio. You can hear it all over town, but the soul of samba resides in Lapa, an edgy red-light district that is home to dozens of live-music halls and an enormous weekend street party that draws revelers from all walks of life. Samba is also the integral sound during Carnaval, and the danceable backing music to street parties and all-night parades.
Joie de Vivre
Speaking of Carnaval, Rio knows how to party. Whether you call it joie de vivre,

Lebensfreude

or lust for life,

cariocas

have it in spades. Carnaval, and the buildup to it, is the most obvious manifestation of this celebratory spirit. But Rio has many other occasions for revelry: celebrations after a big Flamengo (or Vasco, Fluminense or Botafogo) soccer match; weekend samba parties around town;

baile

funk parties in the favelas (slums, informal communities); and boat parties on the bay – not to mention major fests such as Réveillon (New Year's Eve) and the Festas Juninas.
Seychelles

Close your eyes. And just imagine. You're lazing on a talcum-powder beach lapped by topaz waters and backed by lush hills and big glacis boulders. Brochure material? No, just routine in the Seychelles. With such a dreamlike setting, the Seychelles is unsurprisingly a choice place for newlyweds. But for those looking for more than a suntan or romance, this archipelago offers a number of high-energy distractions. There are jungle and coastal walks, boat excursions, and diving and snorkelling to keep you buzzing. Ecotourism is big – there are marine parks and natural reserves filled with endemic species that are easy to approach.
The Seychelles is more affordable than you think. On top of ultra
-
luxurious options, the country has plenty of self-catering facilities and family-run guesthouses that offer local colour. So if you are suffering from visions of tropical paradise, here is your medicine.
Mallorca

The ever popular star of the Mediterranean, Mallorca has a big sunny personality thanks to its ravishing beaches, remote mountains and soulful hill towns.

Coastal Living
There are many reasons why Mallorca tops Europe's summer holiday charts, but one ranks above all others: the island's beautiful coast. Beyond the built-up resorts, coves braid the island like a string of pearls – each one a reminder of why the island's beaches have never lost their appeal. Go west for cliff-sculpted drama and sapphire seas, or head north for hikes to pine-flecked bays and breezes that carry kite-surfers, windsurfers and sailors across turquoise waters. Scope out deserted coves in the east, or dive off bone-white beaches in the south. With a room overlooking the bright-blue sea, sundown beach strolls to the backbeat of cicadas and seafood at restaurants open to the stars, you'll soon click into the laid-back groove of coastal living.
Return to Tradition
Mallorca's culture has taken a backseat to its beaches for decades, but the tides are changing. Up and down the island, locals are embracing their roots and revamping the island's old manor houses, country estates and long-abandoned

fincas

(farmhouses) into refined rural retreats. Spend silent moments among the olive, carob and almond groves and you'll soon fall for the quiet charm of Mallorca's hinterland. Summer is one long party and village

festes

(festivals) offer a genuine slice of island life.
Mediterranean Flavours
Eating out in Palma has never been more exciting, with chefs – inspired as much by their Mallorquin grandmothers as Mediterranean nouvelle cuisine – adding a pinch of creativity and spice to the city's food scene. Inland restaurants play up hale-and hearty dishes, such as suckling pig spit-roast to perfection, paired with locally grown wines. On the coast, bistros keep flavours clean, bright and simple, serving the catch of the day with big sea views.
Stirring Landscapes
For Miró it was the pure Mediterranean light. For hikers and cyclists it is the Serra de Tramuntana's formidable limestone spires and bluffs reigning over the island's west coast. For others it is as fleeting as the almond blossom snowing on meadows in spring, or the interior's vineyards in their autumn mantle of gold. Wherever your journey takes you, Mallorca never fails to seduce. Cars conga along the coast in single file for views so enticing, they make resort postcards look like poor imitations. But even in the tourist swarms of mid-August, you can find your own muse – trek to hilltop monasteries, pedal through honey-stone villages, engrave Mallorca's lyrical landscapes to memory.
France
France seduces travellers with its unfalteringly familiar culture, woven around cafe terraces, village-square markets and lace-curtained bistros with their

plat du jour

chalked on the board.
Gastronomy
Food is of enormous importance to the French, and each region has its own specialities alongside French classics. The daily culinary agenda takes no prisoners: breakfasting on warm croissants from the

boulangerie

, stopping off at Parisian bistros, and shopping at the market are all second nature to the French – and it really would rude to refuse. But French gastronomy goes far deeper than just eating exceedingly well. Its experiential nature means there is always something tasty to observe, learn and try, wherever you are – be it flipping crepes in Brittany or chinking Champagne flutes in ancient Reims cellars, the culinary opportunities are endless.
Cultural Savoir Faire
France is about world-class art and architecture, outstanding museums, Roman temples and Renaissance châteaux. It seduces with both iconic landmarks known the world over and rising stars yet to be discovered. This country's cultural repertoire is staggering – in volume and diversity. And this is where the beauty of

la belle France

lies: when super stars like Mademoiselle Eiffel, royal Versailles and the celebrity-ridden French Riviera have been ticked off, there's still plenty more to thrill. (France is, after all, the world's top tourist destination, with more than 80 million visitors a year.
Art de Vivre
The rhythm of daily life – dictated by the seasons in the depths of

la France profonde

(rural France) – exudes an intimacy that gets under your skin. Don't resist. Rather, live the French lifestyle. Embrace the luxury of simple, everyday rituals being transformed into unforgettable moments, be it a coffee and croissant in the Parisian cafe where Sartre and Simone de Beauvoir met to philosophise, a stroll through the lily-clad gardens Monet painted, or a walk on a beach in Brittany scented with the subtle infusion of language, music and mythology brought by 5th-century Celtic invaders.
Outdoor Action
And then there is the

terroir

(land) and the varied journey it weaves from northern France's cliffs and sand dunes to the piercing blue sea of the French Riviera and Corsica green oak forests. Outdoor action is what France's lyrical landscape demands – and there's something for everybody. Whether you end up walking barefoot across wave-rippled sand to Mont St-Michel, riding a cable car to glacial panoramas above Chamonix, or cart wheeling down Europe's highest sand dune, France does not disappoint. It's great outdoors is thrilling, with endless opportunities and the next adventure begging to be had.

Allez!
Puerto Vallarta

Puerto Vallarta – referred to simply as 'Vallarta' by its many aficionados – is one of Mexico's liveliest and most sophisticated resort destinations. Stretching around the sparkling blue Bahía de Banderas (Bay of Flags) and backed by lush palm-covered mountains, one couldn't ask for a better place to while away a cosmopolitan vacation. Each year millions come to laze on the dazzling sandy beaches, browse in the quirky shops, nosh in the stylish restaurants and wander through the picturesque cobbled streets or along its enticing malecón. If the pretty town beaches aren't enough, you can venture out on cruises, horseback rides, diving trips and day tours – and be back in time for a late dinner and an even later excursion to one of the many sizzling nightspots on offer.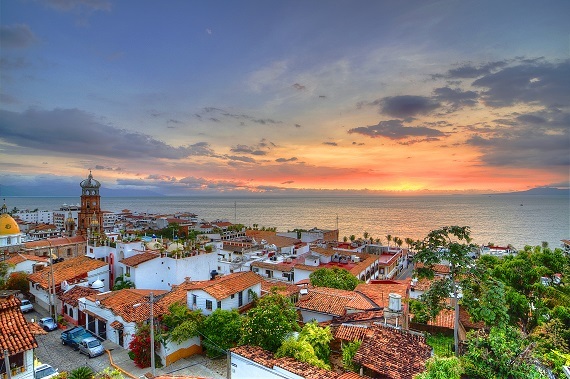 The 'old' town center, called Zona Centro, is the area north of Río Cuale, with the small Isla Cuale in the middle of the river. The city's two principal thoroughfares are Morelos and Juárez, which sandwich the Plaza Principal. Many fine houses, quite a few owned by foreigners, are found further up the Río Cuale valley, also known as Gringo Gulch.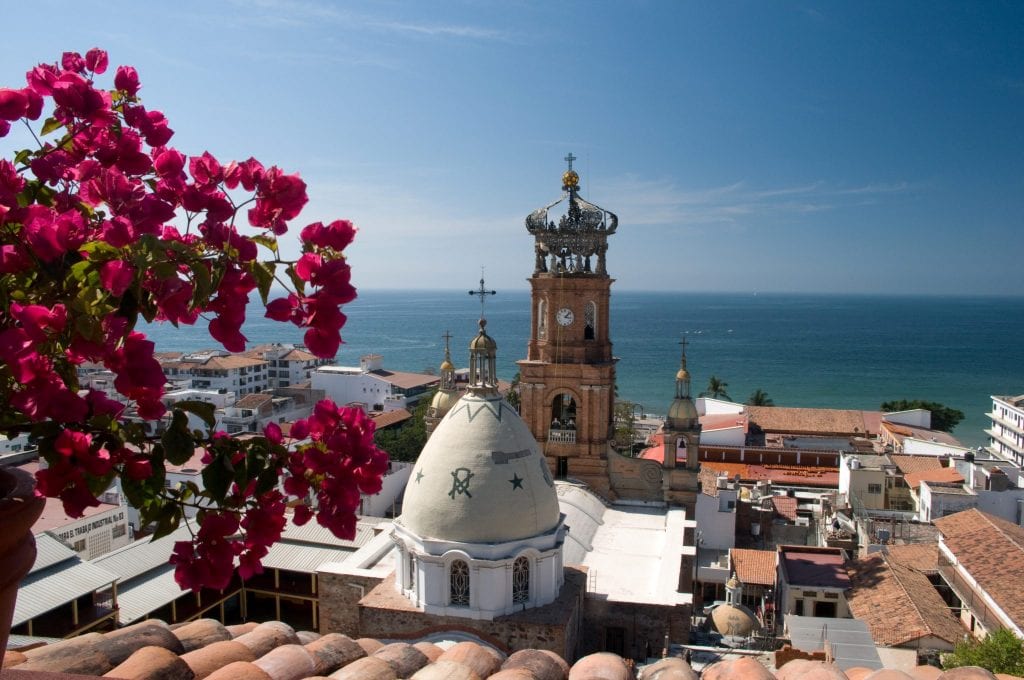 South of the river, the Zona Romántica is another tourist district with smaller hotels, restaurants and bars. It has the only two beaches in the city center – Playa Olas Altas and Playa de los Muertos. We've concentrated most of our listings in these eminently walkable downtown neighborhoods, which remain the heart and soul of Puerto Vallarta.
North of the city is a strip of giant luxury hotels, the Zona Hotelera; Marina Vallarta, a large yacht marina (9km from the city center); the airport (10km); the bus station (12km); and Nuevo Vallarta, a new area of hotel and condominium developments (18km). To the south of the city are a few more large resorts and some of the area's most beautiful beaches.
Poland
Chic medieval hot spots like Kraków and Gdańsk vie with energetic Warsaw for your urban attention. Outside the cities, woods, rivers, lakes and hills beckon for some fresh-air fun.
Castles to Log Cabins
The former royal capital of Kraków is a living lab of architecture over the ages. Its nearly perfectly preserved Gothic core proudly wears overlays of Renaissance, Baroque and Art Nouveau, a record of tastes that evolved over centuries. Fabulous medieval castles and evocative ruins dot hilltops around the country, and the fantastic red-brick fortresses of the Teutonic Knights stand proudly in the north along the Vistula. Simple but finely crafted wooden churches hide amid the Carpathian hills, and the ample skills of the highlanders are on display at the many skansens (open-air ethnographic museums).
A Thousand Years
Poland's roots go back to the turn of the first millennium, leaving a thousand years of twists and turns and kings and castles to explore. WWII history buffs are well served. Tragically, Poland found itself in the middle of that epic fight, and monuments and museums dedicated to its battles – and to Poland's remarkable survival – can be seen everywhere. There's a growing appreciation, too, of the rich Jewish heritage. Beyond the deeply affecting Holocaust memorials, synagogues are being sensitively restored, and former Jewish centres such as Łódź and Lublin have heritage trails, so you can trace this history at your own pace.
Heart-Warming Food
If you're partial to good home cooking, the way your grandmother used to make it, you've come to the right place. Polish food is based largely on local ingredients like pork, cabbage, mushrooms, beetroot and onion, combined simply and honed to perfection. Regional specialties like duck, goose and trout keep things from getting dull. As for sweets, it's hard to imagine a more accommodating destination. Cream cakes, apple strudel, pancakes, fruit-filled dumplings and a special mania for

lody

(ice cream) may have you skipping the main course and jumping straight to the main event.
Fresh-Air Pursuits
Away from the big cities, much of Poland feels remote and unspoiled. While large swathes of the country are flat, the southern border is lined with a chain of low-lying but lovely mountains that invite days, if not weeks, of splendid solitude. Well-marked hiking paths criss-cross the country, taking you through dense forest, along broad rivers and through mountain passes. Much of the northeast is covered by interlinked lakes and waterways ideal for kayaking and canoeing – no experience necessary. Local outfitters are happy to set you up for a couple of hours or weeks.
Madagascar


Lemurs, baobabs, rainforest, desert, trekking and diving: Madagascar is a dream destination for outdoor lovers – and half the fun is getting to all these incredible attractions.
Wild World
Madagascar is unique: 5% of all known animal and plant species can be found here, and here alone. The island's signature animal is the lemur of course, but there are many more weird and wonderful creatures: the eerie-looking fossa (a cat-like predator), colourful and camouflaged chameleons, oddly shaped insects, vivid frogs, graceful rays and turtles, several species of sharks, and humpback whales during the winter months. Trees and plants are just as impressive, be they the distinctively shaped baobabs, the fanning
ravinala
(travellers' palm), the hundreds of orchids or the spiny forests of the desert south.
Epic Landscapes
The remarkable fauna and flora is matched by epic landscapes of an incredible diversity: you can go from rainforest to desert in just 300km. Few places on Earth offer such an intense kaleidoscope of nature. There are sandstone canyons, limestone karsts, mountains, fertile hills cascading with terraced rice paddies, forests of every kind – rain, dry, spiny – and a laterite-rich soil that gave the country its nickname of 'Red Island'. With 5000km of coastline, the sea is never very far, turquoise and idyllic in places, dangerous in others.
Of Life & Death
Madagascar has been populated by successive waves of migrants from various corners of the Indian Ocean. This cultural melting pot has evolved into an intricate set of beliefs and rituals that revere ancestors' spirits. For travellers, attending a
famadihana
(traditional exhumation and reburial when relatives can communicate with their forebears) can be the highlight of a trip. There is much history to discover, too, from Antananarivo's sacred hills to the pirate history of Île Sainte Marie.
What a Wonderful World
Madagascar is unique: 5% of all known animal and plant species can be found here and here alone. The remarkable fauna and flora is matched by epic landscapes of an incredible diversity: you can go from rainforest to desert in just 300km. Few places on earth offer such an intense kaleidoscope of nature. Making the best of it, however, can be challenging (and expensive): Madagascar is the world's fourth-largest island and its roads are dismal. But those who relish an adventure will come into their own: the off-road driving is one of a kind, and there are national parks that only see 100 visitors a year, regions that live in autarchy during the rainy season and resorts so remote you'll need a private plane or boat to get there.
Island Adventures
Making the best of Madagascar can be challenging (and expensive): it is the world's fourth-largest island and its roads are dismal. For those who relish an adventure, however, this is a one-of-a-kind destination: the off-road driving is phenomenal, there are national parks that only see a few hundred visitors a year, regions that live in autarky during the rainy season and resorts so remote you'll need a private plane or boat to get there. There are also more activities than you'll have time for: trekking, diving, mountain biking, kite surfing, rock-climbing, you name it. Oh, and there are plenty of natural pools, beaches and hammocks to recover, too.
Turn to the Sea
With 5000km of coastline, 450km of barrier reef and 250 islands, no stay in Madagascar would be complete without a few days on the island's shores. Divers will revel in the choice of sites, from underwater 'cathedrals' to shipwrecks, and will relish the chance to see rays, whale sharks, reef sharks and many other kinds of sharks. Snorkellers will be awed by the sheer grace of turtles and marvel at the rainbow of colours displayed by corals and fish. For those keen to keep their heads above water, the idyllic beaches will prove hard to resist. And once you've swayed in your hammock to your heart's content, you can join a local fisher for a pirogue (dugout canoe) trip, go sailing to explore nearby islands or board a whale-watching boat to admire humpbacks breaching – one of nature's most majestic spectacles.
Maldives

Unrivalled luxury, stunning white-sand beaches and an amazing underwater world make the Maldives an obvious choice for a true holiday of a lifetime.
Unbelievable Beaches
The Maldives is home to perhaps the best beaches in the world; they're on almost every one of the country's nearly 1200 islands and are so consistently perfect that it's hard not to become blasé about them. While some beaches may boast softer granules than others, the basic fact remains: you'll find consistently whiter-than-white powder sand and luminous cyan-blue water like this almost nowhere else on earth. This fact alone is enough to bring over a million people a year to this tiny, remote and otherwise little-known Indian Ocean paradise.
Resorts for Everyone
Every resort in the Maldives is its own private island, and with over 100 to choose from the only problem is selecting where you want to stay. At the top end, the world's most exclusive hotel brands compete with each other to attain ever-greater heights of luxury, from personal butlers and private lap pools to in-room massages and pillow menus. It's not surprising that honeymooners and those seeking a glamorous tropical getaway have long had the country at the top of their wish lists. But there's choice beyond the five- and six-star resorts. Other islands cater for families, for divers, for those on a (relative) budget, and anyone wanting a tranquil back-to-nature experience.
Independent Travel
In the last few years, these incredible islands have finally started to open to independent travellers, meaning you no longer have to stay in resorts and remain separate from the local population, something that has kept backpackers away for decades. Intrepid individuals can now make their own itineraries and travel from island to island by public ferry, staying among the devout but friendly local population. With a fast-growing number of privately run guesthouses on inhabited islands, the Maldives and its people are now more accessible than ever.
Underwater World
With some of the best diving and snorkelling in the world, the clear waters of the Maldives are a magnet for anyone with an interest in marine life. The richness and variety is astonishing; dazzling coral walls, magnificent caves and schools of brightly coloured tropical fish await you when you get down to the reef. In deeper waters lurk manta rays, turtles, sharks and even the world's largest fish, the whale shark. The best bit? The water is so warm many people don't even wear a wetsuit.
South Africa


Every country in the world displays some diversity, but South Africa, stretching from the hippos in the Limpopo River to the penguins waddling on the Cape, takes some beating. It befits its position at the southern end of the world's most epic continent, with more types of terrain than photographers can shake their zoom lens at. There's the deserted Kalahari, Namakwa's springtime symphony of wildflowers, iconic Table Mountain and Cape Point, Kruger National Park's wildlife-stalked savannah (scene of the famous lion-buffalo-crocodile battle watched more than 75 million times on YouTube) and, running through the east of the country and into Lesotho, the Drakensberg. KwaZulu-Natal's iSimangaliso Wetland Park alone has five distinct ecosystems, attracting both zebras and dolphins.
If you're interested in another kind of wildlife, hit the nightclubs on Cape Town's jumping Long St or sample African homebrew in a township shebeen (unlicensed bar). When it's time to reflect on it all, do it over seafood on the Garden Route, curry in Durban's Indian Area, a sizzling Cape Malay dish, or a braai (barbecue) in the wilderness – accompanied by a bottle of pinotage produced by the oldest wine industry outside Europe.
Dominican Republic

The DR is one of the Caribbean's most geographically diverse countries, with stunning mountain scenery, desert scrublands, evocative colonial architecture and beaches galore.
Past & Present
The country's roller-coaster past is writ large in the physical design of its towns and cities. Santo Domingo's Zona Colonial exudes romance with its beautifully restored monasteries and cobblestone streets where conquistadors once roamed. The crumbling gingerbread homes of Puerto Plata and Santiago remain from more prosperous eras, and scars from decades of misrule are marked by monuments where today people gather to celebrate. New communities have arisen only a few kilometers from the ruins where Christopher Columbus strode and where the indigenous Taíno people left physical traces of their presence carved onto rock walls.
People & Culture
The social glue of the DR is the all-night merengue that blasts from modest corner stores – this is true everywhere from cities such as Santo Domingo, to crumbling San Pedro de Macoris or Puerto Plata where waves crash over the Malecón. Dominicans appreciate their down time and really know how to party, as can be seen at Carnival celebrations held throughout the country and each town's own distinctive fiesta. These events are great windows into the culture, so take the chance to join the fun and elaborate feasts.
Coastal Country
Hundreds of miles of coastline define the Dominican Republic (DR) – some of it white-sand beaches shaded by rows of palm trees, other parts lined dramatically with rocky cliffs, wind-swept dunes or serene mangrove lagoons. Whether it's fishing villages where the shoreline is used for mooring boats or indulgent tourist playgrounds with aquamarine waters, the sea is the common denominator. Some of the bays and coves where pirates once roamed are the temporary home of thousands of migrating humpback whales, and part of an extensive network of parks and preserves safeguarding the country's natural patrimony.
Peaks & Valleys
Beyond the capital, much of the DR is distinctly rural: driving through the vast fertile interior, you'll see cows and horses grazing alongside the roads and trucks and burros loaded down with produce. Further inland you'll encounter vistas reminiscent of the European Alps, rivers carving their way through lush jungle and stunning waterfalls. Four of the five highest peaks in the Caribbean rise above the fertile lowlands surrounding Santiago and remote deserts extend through the southwest, giving the DR a physical and cultural complexity not found on other islands.
Obudu Mountain Resort (formerly known as the Obudu Cattle Ranch) is a ranch and resort on the Obudu Plateau in Cross River State, Nigeria. It was developed in 1951 by Mr. McCaughley, a Scot who first explored the mountain ranges in 1949. He camped on the mountaintop of the Oshie Ridge on the Sankwala Mountains for a month before returning with Mr. Hugh Jones a fellow rancher who, in 1951, together with Dr Crawfeild developed the Obudu Cattle Ranch. The

Obudu Mountain Resort

offers the leisure seeker and the conference goer a complete contrast. Not only in its temperate climate but also it's exciting and different location.


Nestling at the top of the mountain the Obudu Mountain Resort is situated on a plateau at 1576 metres above sea level on the Oshie Ridge of the Sankwala Mountains. The temperate climate offers a total contrast and welcome respite from Africa's tropical heat. Idyllic tranquillity, beautiful scenery and breathtaking views make it ideal for the lone adventurer, families on reunion, young couple or holiday group.



Obudu Mountain Resort

is in Cross River State situated close to the border of Cameroon and is reached from Lagos by plane.



Obudu Mountain Resort provides accommodation in the form of African round huts and chalets on stilts maximising the breathtaking views. Obudu Mountain Resort also offers self-contained suites varying in size from the 2-bedroomed Governor's Lodge with its own lounge/dining room and kitchenette to the 20 Mountain Villas, each with three bedrooms, lounge, dining room, kitchenette and balcony.



The food and beverage offering is found in the Terrace Restaurant and Bar with a cosy and relaxing atmosphere made complete by the blazing log fire. National and international cuisine is guaranteed to suit all tastes and the healthy appetites from a day's nature walk or round of golf.



The Obudu Mountain Resort offers a fully equipped gym, two floodlit tennis courts, a squash court and a natural swimming pool. Keen golfers can show their prowess on the hotel's 9-hole golf course.



The tours to view the magnificent scenery and spectacular birdlife are a must for the visitor to this part of the world and these tours can be taken on foot or on bicycle. For those who forgot to pack binoculars, the Canopy Walkway which is situated in the trees allows visitors thrilling close-ups of the birds in their natural habitat high above the ground.
A major talking point for guests is Africa's longest cable car system. At 4 kilometres, Obudu Mountain Resort cable car gently transfers guests (and their bags) from the tropical climate at the base of the mountain right to the hotel's reception area on the mountainside which is often in the clouds and is accompanied by an invigorating drop in temperature.
So, grab your hiking boots, pack your binoculars and come experience this unspoilt part of Africa and sleep easy knowing that all the comfort and top-class service which African Sun is famous for will be provided in your stay. Join us at the Obudu Mountain Resort and enjoy a different but still unforgettable experience.

Vast savannahs peppered with immense herds of wildlife. Snow-capped mountains on the equator. Traditional peoples who bring soul and colour to the earth. Welcome to Kenya.
Stirring Landscapes
When you think of Africa, you're probably thinking of Kenya. It's the lone acacia silhouetted against a horizon stretching into eternity. It's the snow-capped mountain almost on the equator and within sight of harsh deserts. It's the lush, palm-fringed coastline of the Indian Ocean, it's the Great Rift Valley that once threatened to tear the continent asunder, and it's the dense forests reminiscent of the continent's heart. In short, Kenya is a country of epic landforms that stir our deepest longings for this very special continent.
Abundant Wildlife
This is the land of the Masai Mara, of wildebeest and zebras migrating in their millions with the great predators of Africa following in their wake. But Kenya is also home to the red elephants of Tsavo, to Amboseli elephant families in the shadow of Mt Kilimanjaro and to the massed millions of pink flamingos stepping daintily through lake shallows. Africa is the last great wilderness where these creatures survive. And Kenya is the perfect place to answer Africa's call of the wild.
Conservation's Home
The survival and abundance of Kenya's wildlife owes everything to one of Africa's most innovative and successful conservation communities. Through some pretty tough love – Kenya pioneered the use of armed rangers to protect rhinos and elephants – Kenya stopped the emptying of its wilderness, bringing its wildlife back from the brink after the poaching holocaust of the 1970s and 1980s. More than that, in places like Laikipia and the Masai Mara, private and community conservancies bring tourism together with community development and wildlife conservation in a near-perfect marriage. In other words, if you want your visit to make a difference, you've come to the right place.
Proud Peoples
Peopling that landscape, adding depth and resonance to Kenya's age-old story, are some of Africa's best-known peoples. The Maasai, the Samburu, the Turkana, Swahili, the Kikuyu: these are the peoples whose histories and daily struggles tell the story of a country and of a continent – the struggle to maintain traditions as the modern world crowds in, the daily fight for survival in some of the harshest environments on earth, the ancient tension between those who farm and those who roam. Drawing near to these cultures, even coming to understand them a little better through your presence among them, could just be a highlight of your visit.
Please do tell me how you feel about these places by putting them in words in the comment box.
Photo Credit: www.lonelyplanet.com
www.tripadvisor.com