The Love Phenomenon called "Brangelina"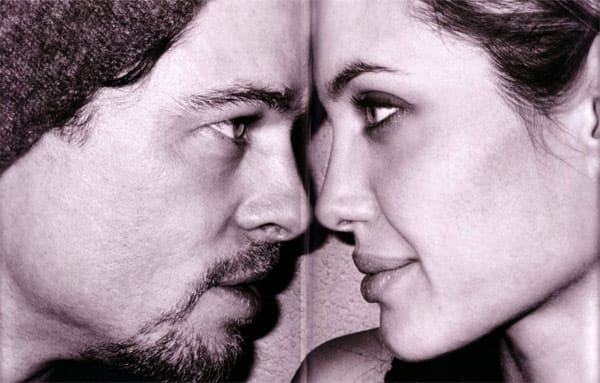 It's 2015 and the age old love term "Romeo and Juliet" has stylishly been replaced with Brad and Jolie's "Brangelina".
Brangelina
(also called Bradgelina) is a celebrity
Supercouple
consisting of American actor
Brad Pitt
born December 18, 1963 and actress
Angelina Jolie
born June 4, 1975. "Brangelina" is a
linguistic blend
of the pair's names.
Pitt has appeared in over 40 major films, including
Ocean's Eleven
(2001), while Jolie has appeared in over 30 major films, including
Lara Croft: Tomb Raider
(2001).Their relationship began after they starred together in the (2005) action Blockbuster movie
Mr. & Mrs Smith
. They have three adopted children, Maddox, Pax, Zahara, and have three biological children, Shiloh, Knox, and Vivienne.
Pitt was engaged for six months to actress
Gwyneth Paltrow
, his co-star in
Seven
(1995), whom he dated from December 1994 to June 1997. In May 1998, Pitt met
Friends
actress
Jennifer Aniston
; they married on July 29, 2000. Despite their relationship previously being considered a rare Hollywood success, Pitt and Aniston separated in January 2005 and divorced on October 2, 2005.
On March 28, 1996, Jolie married British actor
Jonny Lee Miller
, her co-star in
Hackers
(1995). Jolie and Miller separated in September 1997 and divorced on February 3, 1999. After a two-month courtship, Jolie married actor
Billy Bob Thornton
, her co-star in
Pushing Tin
(1999), on May 5, 2000. Jolie and Thornton announced the adoption of a son, Maddox, from Cambodia in March 2002, but separated three months later. Their divorce was finalized on May 27, 2003.
Pitt and Jolie met in 2004 on the set of
Mr. & Mrs Smith
. In early 2005, their association became the subject of a much-publicized Hollywood scandal, when they were alleged to have begun an affair while Pitt was still married to
Jennifer Aniston
. Pitt and Jolie denied this on several occasions, but both admitted that they "fell in love" on the set (Hmmm…Love at first sight).
While Pitt and Jolie never publicly commented on the nature of their relationship, speculations continued throughout 2005. In April, one month after Aniston filed for divorce, a set of paparazzi photos emerged that showed Pitt, Jolie, and her son Maddox at a beach in Kenya, which seemed to confirm the rumors of a relationship between Pitt and Jolie. During the summer, Pitt and Jolie were seen together with increasing frequency, and most of the entertainment media considered them a couple, dubbing them "Brangelina". On January 11, 2006, Jolie confirmed to
People
that she was pregnant with Pitt's child and thereby acknowledged their relationship for the first time in public.
On March 10, 2002, Jolie adopted her first child, seven-month-old Maddox Chivan, from an orphanage in

Phnom Penh
, Cambodia.

He was born as Rath Vibol on August 5, 2001 in a local village. Jolie applied for adoption after she had visited Cambodia twice, while filming
Lara Croft: Tomb Raider
(2001) and on a mission in her capacity as
Goodwill Ambassador
for the
UNHCR
. The adoption process was halted in December 2001 when the U.S. government banned adoptions from Cambodia amid allegations of child trafficking. Once the ban was lifted for the waiting families, she took custody of Maddox in Namibia, where she was filming
Beyond Borders
(2003). Although Jolie and her then-husband Billy Bob Thornton announced the adoption together, she in fact adopted Maddox as a single parent.
Jolie adopted a daughter, six-month-old Zahara Marley, from an orphanage in
Addis Ababa
, Ethiopia on July 6, 2005. Zahara was born as Yemsrach on January 8, 2005 in
Awassa
. At the time of the adoption, Jolie did not know whether her daughter was HIV positive, but Zahara later tested negative. Shortly after they returned to the United States, Zahara was hospitalized for dehydration and malnutrition. In November 2007, media outlets reported that Zahara's biological mother wanted her daughter back, but she denied these reports, saying she thought Zahara was "very fortunate" to have been adopted by Jolie.
Pitt accompanied Jolie when she traveled to Ethiopia to pick up Zahara. Jolie later indicated that she and Pitt had made the decision to adopt from Ethiopia together. In December 2005, Pitt's publicist announced that Pitt was seeking to adopt Maddox and Zahara. To reflect this, Jolie filed a request to legally change her children's surnames from Jolie to Jolie-Pitt, which was granted on January 19, 2006. The adoptions were finalized soon after.
On May 27, 2006, Jolie gave birth to Shiloh Nouvel, in
Swakopmund
, Namibia. Pitt confirmed that their newborn would have a Namibian passport. Pitt and Jolie decided to sell the first pictures of Shiloh through the distributor
Getty Images
themselves, rather than allowing paparazzi to make these valuable photographs. People paid a reported $4.1 million for the North American rights, while
Hello!
obtained the British rights for a reported $3.5 million. All profits were donated to charities serving African children. In July,

Madame Tussauds
in New York unveiled a wax figure of two-month-old Shiloh; it marked the first time an infant was recreated in wax by the museum.
On March 15, 2007, Jolie adopted a son, three-year-old Pax Thien, from an orphanage in
Ho Chi Minh City
, Vietnam. He was born as Pham Quang Sang on November 29, 2003 in the capital. She adopted Pax as a single parent, because Vietnam's adoption regulations do not allow unmarried couples to co-adopt. The following month, she filed a request to legally change her son's surname from Jolie to Jolie-Pitt, which was approved on May 31, 2007. She revealed that his first name, Pax, was suggested by her mother, actress Marcheline
Bertrand before her death in January 2007.
The rights for the first post-adoption images of Pax were sold to People for a reported $2 million, as well as to Hello! for an undisclosed amount. Pitt's adoption of Pax was finalized in the United States on February 21, 2008.
At the
Cannes Film Festival
in May 2008, Jolie confirmed that she was expecting twins. She gave birth to a son, Knox León, and a daughter, Vivienne Marcheline, on July 12, 2008 in
Nice,
France. The rights for the first images of Knox and Vivienne were jointly sold to People and Hello! for a reported $14 million—the most expensive celebrity picture ever taken
The proceeds were donated to the Jolie-Pitt Foundation.
Starting in 2005, Pitt and Jolie's relationship became one of the most reported celebrity stories worldwide. After Jolie confirmed her first pregnancy in January 2006, the unprecedented media hype surrounding them "reached the point of insanity," as described by Reuters
in their story "The Brangelina Fever". In an attempt to avoid the media attention, Pitt and Jolie went to Namibia for the birth of their first biological child, to whom the Associated Press
referred as "the most anticipated baby since Jesus Christ". Two years later, Jolie's second pregnancy again fueled a media frenzy. For the two weeks she spent in a seaside hospital in Nice,
France, reporters and photographers camped outside on the promenade to report on the birth of the twins.
Like their relationship, Pitt and Jolie's six children themselves have gained considerable fame and appear regularly in the tabloid media. In January 2008, Forbes
named Shiloh the most influential celebrity child, based on her web presence, press clippings, and awareness data, and her parents' consumer-appeal rankings. Ethiopia-born Zahara ranked third, while Vietnam-born Pax came in fifth. Cambodia-born Maddox was, at six, too old to qualify. In a November 2008 repeat survey, Shiloh ranked second behind Suri Cruise, the daughter of actors

Tom Cruise
and

Katie Holmes
. Zahara again placed third and Pax moved up to fourth place. Twins Knox and Vivienne were too young and infrequently seen to qualify.
Just like it's been said "Love will set you free". Brad and Jolie were truly made for each other and indeed found love in each other's eyes, no wonder the nursery story books ends every beautiful story like this "and they lived happily ever after".
Below are some amazing pictures for your viewing pleasure.
Jolie's dress at her wedding to Brad Pitt had their children's drawings and artworks on it. The gown and the veil had flowers and cartoons drawn on by the couple's six children.
Angelina Jolie's wedding dress is covered in her kids' drawings